HIGHLIGHTS:  CAPACITY BUILDING | EDUCATION | 3D | CADASTRE
Open Science Matters!
The second day of the ISPRS Congress in Prague kicked off with a highly relevant keynote presentation by Ms Heide Hackmann of the International Council for Science (ICSU). She told the audience passionately about the urgency of open science.  The world faces great challenges and the society expects science to solve these problems. On the other hand, science itself is under pressure to reinvent itself and to re-energize its contact with the society. Hackmann calls for a global response and a significantly enriched collaboration within and between the scientific community. And beyond that, as the world of policy and business, and the public at large are also involved. Read on here
The Next Steps for 3D…
10 years from now, a semantic-rich 3D virtual model of our environment will be available and continuously updated by citizens, companies and governments as well as by sensors that monitor air quality, temperature, noise, etc. With the up-to-date 3D virtual model, governments will be well-informed on the current state of our environment and will be able to accurately predict the impact on flooding, energy, safety, etc. in the case of an intervention (whether planned or not). In addition, citizens will be able to experience the impact of new infrastructures or a windmill using serious gaming. 3D building permits can automatically be checked against the 3D zoning plans and 3D city models, and the submitted 3D design data can be used to keep the virtual model up-to-date. Read on…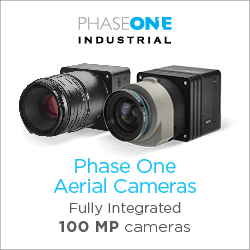 – advertorial –
Phase One Industrial: Medium format, metric cameras for aerial photography
Phase One cameras are known for their image quality, accuracy and easy integration with leading flight management systems, IMU/GNSS receivers and all popular Lidar systems.  Phase One is dedicated to research, development and manufacturing of these solutions for the surveying industry.
Phase One's flagship camera series, (iXU 1000), incorporates a 100 MP CMOS sensor and offers large format coverage at medium format size and price. These cameras are distinguished by their high resolution, wide ISO range and fast capture rate.
With a wide choice of lenses, Phase One offers solutions for everything from small UAVs up to large manned aircraft.
Come and see us at stand no. 36 for a chat and view our winning digital medium format cameras.
Monitoring Phenology of Low Floodplain Vegetation
Why would you monitor floodplains? This is a question you don't have to ask a Dutchman. The Dutch have been living in their delta for centuries and are champions when it comes to flood water levels. Hydraulically rough vegetation types can lead to higher flood water levels during peak discharges, so that's a good reason to monitor, but to measure the ecological value is another one. On Wednesday 13 July, Wimala van Iersel from the University of Utrecht presented the findings of her study, showing the performance of multi-temporal, high-resolution Unmanned Aerial Vehicles (UAV) imagery for analysing temporal height profiles of grassland and herbaceous vegetation in river floodplains. Read on…
Dubai at Forefront of Utilising Geospatial Technologies
Dubai Municipality has decided to participate as a sponsor and exhibitor at the XXIII ISPRS Congress in Prague. Dubai Municipality has always been at the forefront of utilising and propagating the use of geospatial technologies. Read on…
National Mapping Agency Forum
National mapping and cadastre agencies provide geospatial data of various levels of detail, types, and scales, which form the basis of today's geospatial data infrastructure – an indispensable  national asset for sustainable development of the country and many other applications. Read on…
UAS Survey of Easter Island
Unmanned aerial systems (UASs) can be easily transported and this beneficial feature is ideal for photogrammetric surveys of remote spaces. Rapa Nui, the most isolated inhabited place on the planet, took UAS photogrammetry to the limit because of cloud cover, windy weather conditions and the vast size of the island. The resulting orthoimagery and digital surface models will support archaeological documentation and research. The archaeological features will be archived in a single, detailed database. Read on…
Wanna play football?
Friday – 6 pm
All participants are invited to come along and take part, whether you're in a competitive mood or just looking to play a friendly game. It is a great opportunity to stretch your legs after the all-day meetings at the Congress and an excellent way of relaxing in a friendly atmosphere.Enjoy the evening football game just one stop by train from the Congress Centre.
Just 5 minutes from Pražského povstání metro station is a multi-purpose sport field with artificial grass and evening lights, Dekanka areal.
Come and play with other participants or just come and watch the Congress match.
There is no admission fee and everybody is welcome to come, and a few congress souvenirs will be waiting for you there.